SCHOOL TEAM SERIES
Our School Team Series are now available in 2 sizes and are constructed with top quality canvas. Also included: nylon zipper, metal sliders, and an adjustable permanent shoulder strap.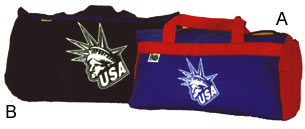 A) SCHOOL TEAM SMALL
19" x 10" x 10"
B) SCHOOL TEAM LARGE
24" x 12" x 12"